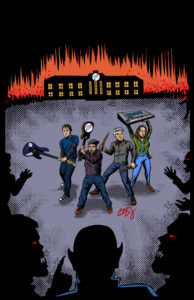 Sunnydale High's main man Chad Blakely outdid himself this time with this amazing poster. We asked him to create an original drawing that would perfectly encapsulate the Sunnydale High spirit— Basically, us against the world DIY style.
The lyric version of the 11 x17 poster will join the CD as part of the CD package. The digital version is available through the Bandcamp download link .
Chad is a Wyoming comic book artist who has done some real cool stuff including both our Denver Comic Con performance posters. Check out his Facebook page here and let him know how cool it is or have him do your next sweet poster.