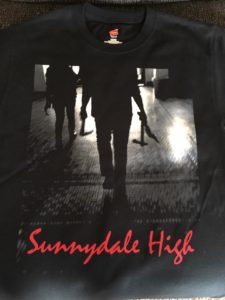 So the new Sunnydale High shirts are pretty sweet. Also, if you want one, they will be available at our CD Release Shows in Laramie and Cheyenne.  After that, we will sell them online.
The shirts came about after we did a cover shoot for the E.P. During the shoot, we had a slew of of weapons for the taking. Jamy grabbed the cover art and some rad photos. Basically if we use a photo, she probably did it.
As we were leaving, Fran snagged a shot of Will and Jamy exiting the hallways. The mood could not have been more perfectly captured. So Fran's awesome art now lives on via comfortable cotton, as well as our website header.
Fran–Sunnydale Keyboardist/T-shirt concept artist extraordinaire.